標準品溫度傳感器應用
1. NTSA series is screw-on type NTC temperature sensor, and it can be fastened with simple screw-on installation. Voltage sensing line for circuit design is also available for this product. For customer's needs, various terminals (including M3, M4, and M5 etc.) are available, and cable length of the product can be adjusted to mechanism. It is ideal for measuring the temperature of transformers, heat sink of power devices for converters, and motor drives.
2. Simple structure is the feature of NTSE series, epoxy coating type NTC temperature sensor. The component is with high commonality and its cable length and structure can be customized for customer's mechanism. It is often adopted to measure the temperature of motors, power tool batteries, and control boards.
3. TSM series is SMD NTC thermistor from THINKING, and EIA 0201, 0402, 0603, and 0805 sizes are available for this series. Its small size enables its fast response, and its SMD structure is suitable for automated production. The SMD type NTC thermistor is ideal for battery module and control board temperature protection.
4. The standard dip type NTC thermistor, TTC03, is with bendable leads, which can be straight or kinked. With the kink leads, the sensing top is lifted up and stays as close to the detected objects for accurate temperature detection. The featured story below demonstrates how the dip type NTC thermistor can be customized to specified requirements.
客製溫度傳感器案例
Designing a temperature sensor requires both electrical and mechanical expert to integrate the sensor physical configuration into customer's product design. The following story presents how THINKING design teams developed a sensor integrated into a pump motor control.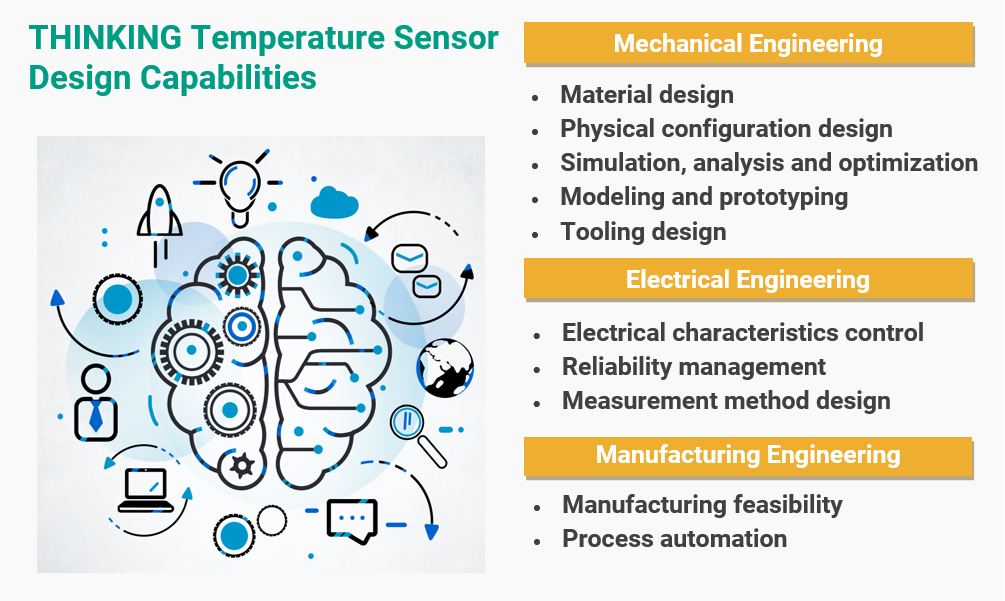 THINKING was asked to develop a NTC sensor with lift-up holder to keep the sensing top away from the PCB at a specified distance, and the sensor unit can withstand the stress occurred in the automatic assembly process. The TTC03 NTC thermistor was chosen to be the element of the sensor because its leads can be fixed at a standing position and enable the sensing top to stay as close to the detected object.
THINKING mechanical engineers utilized 3D modeling and rapid 3D prototyping to explore engineering options and to determine design feasibility of various mechanical structures. With this ability, THINKING quickly delivered a design and prototype of cuboids plastic holder. Once the cuboids shape was decided for its fitness with the client's mechanical requirements, our design engineers then explored the manufacturability of the NTC thermistor with the cuboids plastic holder.
The key design challenge for THINKING was to match the plastic parts assembly because the sensor was relatively small, and the tolerance of the plastic part dimensions was tight. Our engineers carefully verified and controlled the factors that would impact the fitness of the parts and the NTC element, including part design, tooling design and production manufacturing. Tooling design is a complex and highly technical process. Our experts own years of experiences and hands-on knowledge to ensure the tooling quality for producing parts with tight tolerances and to optimize manufacturing processes.
After a few rounds of modeling, prototyping, and testing, THINKING came up with a reliable NTC sensor in a snap-fit holder design that was strongly bonded by ultrasonic welding. Meanwhile, another challenge THINING had to overcome was to deliver the sensor unit in taping and reel. When the client requests design changes, THINKING formed a team and included mechanical, electrical, tooling, and manufacturing engineers to come up with manufacturing feasibility solution that ensured the structure strength, mass production and packaging.
By communicating carefully with the client, THINKING successfully developed a robust NTC sensor that can be kept at a specified distance from the PCB and be held in place during automated assembly.